Soft foods are your friend after you have your braces fitted as you may be adjusting and feeling a little tender for a couple days. It is sometimes hard to be creative with soft food if this is not your general diet. Here are a few suggestions to get you started.
Smoothies
Berry and Spinach smoothie
Combine frozen spinach, frozen berries, milk, honey and cinnamon and process in food processor. Add ice if desired. You can leave out the spinach, however you can hardly taste it.
Mango and Banana Smoothie
Mango, banana, yoghurt, vanilla extract, milk – chop all ingredients; add ice if desired and process in food processor.
Strawberry and Kiwi crush
Blend 1 cup strawberries, 2 peeled kiwis, 2 tablespoons sugar and 2 cups ice in food processor.
Apricot and Almond Whip
1 1/2 cups apricot nectar, 1/2 cup vanilla yogurt, 2 tablespoons almond butter, half cup of milk and half cup of ice. Blend in food processor.
Strawberry Biscuit Crunch
Blend 2 cups strawberries, 1 cup shortbread biscuits, 1 1/2 cups each milk and ice, and honey to taste. Top with whipped cream and more strawberries.
Carrot-Apple Crush
Blend 1 cup each carrot juice and apple juice with 1 1/2 cups ice.
Cherry-Vanilla Parfait
Blend 1 1/2 cups frozen pitted cherries, 1 1/4 cups milk, 2 tablespoons honey, 1/2 teaspoon vanilla extract, 1/4 teaspoon almond extract, 1teaspoon salted caramel and 1 cup ice.
Tropical Pineapple and Coconut Punch
Freeze about 2 cups coconut water in 1 or 2 ice-cube trays. Blend 2 cups each chopped pineapple and coconut ice cubes, 1 1/2 tablespoons lime juice, 1 tablespoon coconut sugar and 1/2 cup coconut water.
Spiced Coffee Frape
Blend 1/2 cup chilled espresso or strong coffee, 1/2 almond milk, 3 1/2 tablespoons brown sugar, 1/4 teaspoon ground cinnamon, 1/4 teaspoon almond extract, ¼ teaspoon vanilla extract and 1 1/2 cups ice.
Quick easy snacks

Guacamole
Mashed banana
Hummus
Apple sauce/puree
Mangoes chopped
Jelly
Custard
Mashed potato
Stewed frozen berries with honey
Tinned pasta
Scrambled eggs
Ice-cream
Sorbet


Smooth Beetroot Dip

Ingredients
1 fresh bunch beetroot
1 garlic head
1 tablespoon of olive oil
1 cup yoghurt
2 tablespoons of chopped dill
1 tablespoon of Dukkah for garnish
Method
Preheat oven to 200°C.  Place sliced beetroot on lined baking tray, along with the garlic head slicing the top off the garlic first. Drizzle oil over beetroot and garlic and toss on tray to coat fully with oil. Place in oven and roast for 45 to 50 minutes. Leave to cool long enough to touch. Peal beetroot and squeeze roasted garlic from head. Place garlic and beetroot into food processor and blend until smooth. Place into bowl, stir in yoghurt, add salt in pepper and refrigerate for 3 hours. Serve with a sprinkle of oil, dukkah and dill.
Dinner or lunch recipes
Lentil Dahl
INGREDIENTS
1 tablespoon oil
1 medium brown onion, finely chopped
2 garlic cloves, crushed
1 tablespoon mild curry powder
1 cup dried red lentils, rinsed, drained
1cm piece fresh ginger, grated
1/2 cup reduced-fat coconut milk
3 1/2 cups chicken stock
METHOD
Cook onion over medium heat in oil until tender. Add garlic and curry powder, stirring quickly. Combine lentils, ginger, coconut milk and stock. Once boiling, reduce heat to low and simmer, for 60 minutes or until thickened and lentil have broken down.
Ratatouille Bowl
INGREDIENTS
1 teaspoon of oil
Half red onion diced
2 garlic cloves crushed
1 Zucchini diced
1 red capsicum diced
Half eggplant diced
4 tomatoes chopped
METHOD
Cook onion and garlic on medium heat for 3-4 minutes. Add all other ingredients, reduce heat, cover and cook for 25 minutes or until vegetables are tender. Can be served with cooked pasta.
Baba Ganoush
Ingredients
3 medium egg plants
olive oil
2 cloves of garlic
1 tablespoon tahini
1 teaspoon cumin
extra virgin olive oil
2 lemons
Method
Preheat the oven to 180C. Cut the eggplant in half lengthways. Score the flesh sides, making sure you don't cut through the skin and coat with olive oil.  Place on baking tray, flesh side up, put in oven 45min. Set aside the cool when cooked. Place into food processor and blend until thick– garlic, tahini, cumin, 2 tablespoons olive oil and the aubergine, discarding the skin, lemon juice from lemons, salt and pepper.
Rice Pudding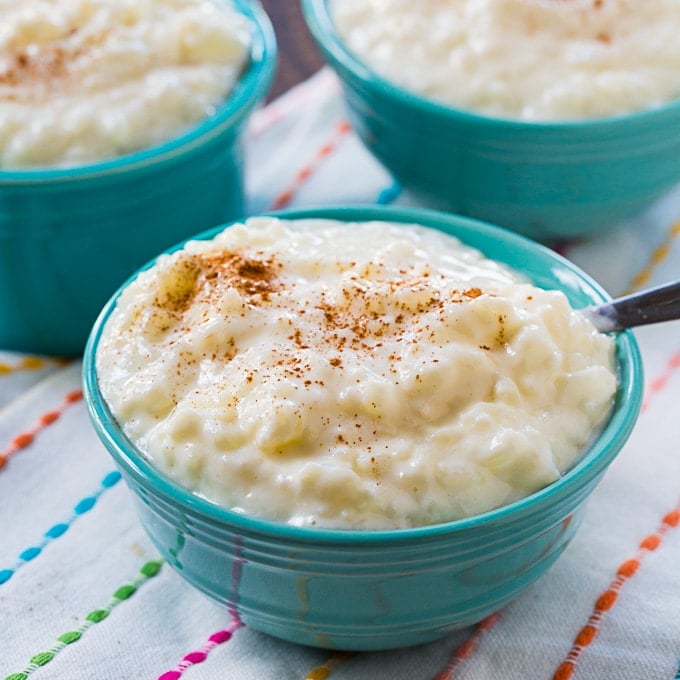 INGREDIENTS
3⁄4 cup uncooked white rice
2 cups milk, divided
1⁄3 cup white sugar
1⁄4 teaspoon salt
1 egg, beaten
1 tablespoon butter
Vanilla extract
METHOD
Bring 1 1/2 cups of water to a boil. Add rice and stir, bring to boil. Once starts boiling reduce heat, cover and simmer for 20 minutes. Remove from pot. In clean pot combine cooked rice, with 1 1/2 cups milk, sugar and salt. On medium heat cook 15 to 20 minutes or until thick and creamy. Combine 1/2 cup milk, beaten egg and stir into rice mixture. Cook a further 2 minutes longer, stirring constantly. Remove from heat, and stir in butter and vanilla.
Green Bean Tomato Mash
INGREDIENTS
125g steamed green beans
1 tomato chopped
Bunch fresh parsley
Bunch fresh coriander
Tablespoon of oil
Sour cream
Salt and pepper
METHOD
Process beans, tomato, fresh herbs and oil in food processor until finely chopped. Add salt and pepper to taste and top with sour cream. Can be served with steamed fish.
Seafood Chowder Soup
INGREDIENTS
1 tablespoon oil
3 salmon fillets
6 cooked cleaned and chopped prawn
½ onion chopped
1 celery stalk diced
1 teaspoon curry powder
1 litre chicken stock
2 potatoes peeled and chopped
1 teaspoon dried parsley
250ml of cream
Salt and pepper
METHOD
Cook salmon and prawns in oil over medium heat until almost cooked. Set aside, and then chop into small pieces. Cook onion, garlic, celery and curry powder for 3-4 minutes stirring until translucent. Add stock, potato, parley and cook covered for 20 minutes until potatoes are soft. Stir in cream cook for further 5 minutes. Remove from heat and allow to cool then transfer to food processor and blend until smooth. Season to taste.
Egg Frittata
Ingredients
6 eggs
1/4 cup cream
1 tablespoon oil
1/2 onion diced1
1/2 cup mushrooms
½ capsicum
1 cup shredded cheese
Extra shredded cheese for topping
½ cup cooked diced and peeled potato
Method
Preheat oven to 200c. Place mushrooms, capsicum and onion into food processor and blend until roughly smooth. In a non-stick heavy set frying pan on medium heat, add oil, processed mushroom, capsicum and onion. Cook for 3-5 minutes, until browned and tender. Take pan off heat and spread cooked ingredients evenly over pan. Add cooked potatoes and cheese and spread over in a layer. Whisk up eggs and cream, adding salt to taste, in a bowl. Drizzle egg and cheese mixture into pan, shaking pan to distribute evenly. Return to medium heat on stove and cook 2 or 3 minutes till the eggs have set around the edges. Sprinkle extra cheese on top and transfer to oven and bake for 10 minutes. Serve warm or cold.